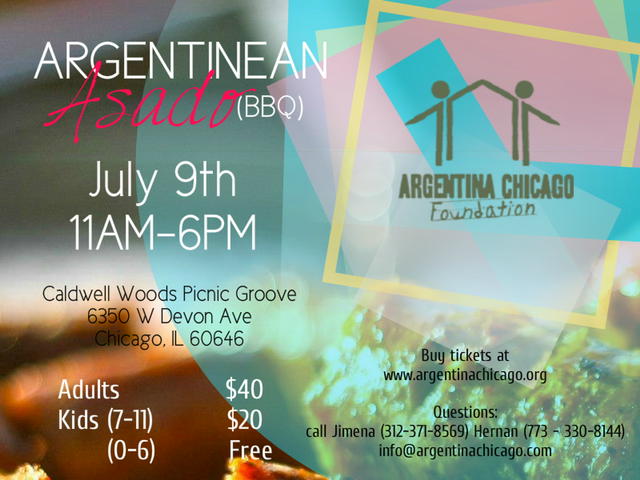 The Consulate General in Chicago is pleased to share the following information sent by the Argentina Chicago Foundation.
Argentina-Chicago Foundation
Annual fundraising BBQ – July 9th Independence Day Celebration
Join us for our annual Argentine Asado to celebrate the 200th year of Argentina's Independence
When and where:
Saturday, July 9th, 2016
11:00 am to 6:00 pm (BBQ from 1pm to 2pm)
Caldwell Woods - 6200 W Devon Ave, Chicago, IL 60646
What is included:
Appetizer: Choripán (Chorizo Sandwich with chimichurri sauce)
Main Course: Entraña con ensaladamixta (Skirt Steak with mixed greens salad)
Drinks: (Soft Drinks) Coke, Diet Coke, Sprite,Water
Dessert: Flan con Dulce de Leche (Flan with Dulce de Leche)
Kid's menu: Choripán. Soft drink. Dessert.
Tickets:$40
Kids:
(7 –11) $20
(0 – 6) Free
Ticket sales online ONLY at http://www.argentinachicago.org/buytickets (until July 6th) *** No ticket sales the day of the event ***
If you are vegetarian, please email us at info@argentinachicago.com
Picnic Style - bring your own blanket and/or table and chairs/plates/cutlery/cups. Park will provide with 10 tables first come first serve.
100% of profits will be used to build or repair a rural school in Argentina through the Argentina-Chicago Foundation
In case of heavy rain, event will be postponed to July 16th, same time same spot.
About Argentina-Chicago Foundation
Argentina Chicago Foundation is a non-for-profit organization whose mission is to improve facilities and provide a safe environment for the education of underprivileged elementary school children in rural areas of Argentina, where poverty levels generally surpass 50%. Since created in 2003, our foundation has helped hundreds of children in need thanks to the support and generosity of people like you.
Contact: info@argentinachicago.com
Jimena: (312) 371- 8569
Hernan: (773) 330-8144