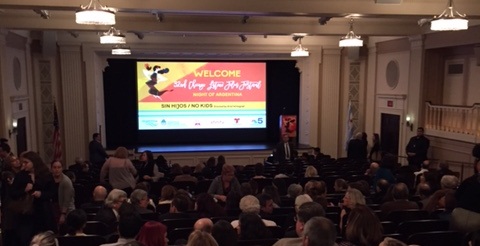 On April 21, the Consulate of Argentina in Chicago celebrated the "Night of Argentina" at the Closing Gala of the Chicago Latino Film Festival.
The Chicago Latino Film Festival (CLFF) is the largest gathering of the film industry of the Hispanic community in this city and the most important of its kind in the United States.
The "Argentina Night" took place from 18:00 to 22:00 at the prestigious Chicago History Museum.
On this occasion the Argentina movie "No Kids", a romantic comedy directed by Ariel Winograd, was screened.
Prior to the film, Mr. José Vargas, organizer of the Festival, Mr. Juan Lovece, producer of the film "No Children", and the Argentine Consul, Mr. Atilio Berardi Hueda, gave a short speech. Mr. Berardi Hueda took the opportunity to emphasize Argentina's booming film industry.
After the screening a reception took place with live music and a Malbec wine tasting.
The activity was widely promoted by both general and specialized press and was covered by the television network Telemundo.
The "Argentina Night" had an attendance of over 500 people that included leading personalities of the local media, members of the film industry, national and state authorities, specialized and businessmen linked to our country's press.
During the festival the following 7 Argentine movies were screened:
- "El Incendio", Dir. Juan Schnitman
- "Los del Suelo", Dir. Juan Baldana
- "Internet Junkie", Dir. Alexander Katzowicz
- "Sin Hijos", Dir. Ariel Winograd
- "Un Tango Mas", Dir. German Kral
- "Pasaje de Vida", Dir. Diego Corsini
- "La Tierra Roja", Dir. Diego Martinez Vignatti
Consulate of Argentina in Chicago
April 25, 2016